TESTIMONIAL AFTER WATCHING OUR 2019 PRODUCTION: I just wanted to write a quick note to say both congratulations to everyone at Superarts and more importantly a massive thank you to you all for your hard work and what you have done for all the young people and especially our daughter, Nwarebea since she started Superarts. 
We can't even begin to find the words. Nwarebea had previously attended another dance school before we found out about Superarts. Though she liked dancing, she never felt happy there. However, just after a few weeks at Superarts, we saw a huge change. She would be dancing around the whole house, any opportunity she got. We've lost count the number of times our hearts have been in our mouths as she tries a new move from acro across the living room. 
At the show on the weekend, it suddenly all made sense. We were overwhelmed by all the young people in the show. They were absolutely brilliant. Everything was delivered at such a high level. 
Our family that came with us loved every moment. There was something for everyone. From our mums in their 70s down to our 4 year old son clapping away to Lion King.  
But what stood out most was the comments made by my older sisters. They kept commenting on how the show seemed to embody the family values of the school and reminded them of our own childhood growing up in the area. We bounced all the way home and Nwarebea's cousin's who also attend another school where they live, were saying they wished they could come down to London to dance at Superarts. 
Thank you again. We're looking forward to the next show in two years.

Thanks to all the people, adults, young people, choreographers, parents, volunteers who made and make it possible every week.
THE BIG FINAL IN 2018 AT THE ELEPHANT PARK WAS A HUGE SUCCESS
THANK YOU TO ALL THOSE WHO TOOK PART AND THOSE WHO HELPED BEHIND THE SCENES TOO
 IT WAS DECIDED TO SPLIT THE PRIZE MONEY AND WE HAD TWO VERY DESERVING WINNERS!
LOIC DILANE - MAGICIAN AND COPY & PASTE - SINGING AND RAP DUO
CONGRATULATIONS TO BOTH WINNERS AND ALL OUR CONTESTANTS WHO MADE IT SUCH A MEMORABLE EVENT  - DESPITE THE RAIN! THANK YOU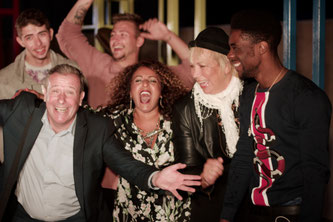 THE SOUTHWARK NEWS KINDLY RAN A PIECE ON THE EVENT
https://www.southwarknews.co.uk/news/a-magician-and-a-rapping-double-act-were-crowned-joint-winners-of-this-years-elephants-got-talent/
COMING VERY SOON...........
PLEASE SCROLL DOWN TO VIEW OUR JUDGES FOR THE BIG FINAL
WE'RE DELIGHTED TO ANNOUNCE THE BIG FINAL WILL BE CO-HOSTED BY AMANNY MOHAMED & JOHN WHELAN.
AMANNY MOHAMED  
Amanny Mohamed is a Film Critic, Radio broadcaster and Producer/Director who's worked with best of British talent including Mariella Frostrup, Claudia Winkleman, Mark Dolan and Phill Jupitus, as well interviewing the creme de la creme of A-list talent from around the globe including Ashwariya Rai, Liam Neeson, Keira Knightley, Halle Berry, and Borat AKA Sascha Baron Cohen.                                                                                                                Amanny regularly contributes to weekly radio broadcasts as BBC Surrey Breakfast's film critic, BBC Sussex Drive's TV pundit and she's known as the "Screen Queen" on The Dominic King show, BBC Kent. You can follow her on twitter @amannymo and here's a short video of some of her work: https://youtu.be/CZQ6i0tfnkM
JOHN WHELAN
John Whelan is a local theatre and community arts practitioner. He has a community theatre company, Peoples Company, based at Southwark Playhouse. He has performed in a variety of plays and is currently directing a community version of  Shakespeare As You Like It with the Globe. Last year he worked with the Tate to create an animated trail of the war artists and has done numerous community arts engagements projects in and around Walworth. As part of his work he is animating the new Elephant Park with the Summer series events which the Elephants Got Talent is part of.
WE'D LIKE TO THANK THE THREE VENUES FOR EACH HOSTING THE HEATS PRIOR TO THE BIG FINAL:
DRAPER HALL, MERCATO METROPOLITANO & ARTWORKS.
THE PROCESS:  
1. THREE WINNERS FROM EACH HEAT WILL EACH WIN A PRIZE AND BE SELECTED TO GO FORWARD TO COMPETE IN THE BIG FINAL. 
2. ON THE 9TH AUGUST, NINE ACTS WILL GO HEAD TO HEAD IN AN ATTEMPT TO WIN THE £100 PRIZE MONEY. PRIZES WILL ALSO BE GIVEN TO THE TWO RUNNER UPS.
No need to register in advance, just turn up at one of the below venues and show us what you've got…don't forget to bring your music, materials, costume or special bag of tricks. 
Please contact us with any queries via the form at the bottom the page 
THURS 26 JUL @ 6.30pm DRAPER HALL, 1 Howel Walk, SE1 6TL. Entrance is off Newington Butts
HOST FOR THE EVENING - ALIDA PANTONE
Doors 6.00pm - Registration commence.                                                                           Performances 6.30pm – 7.45pm.                                                                                                    Judges decision - 8.00pm. 
TUES 31 JUL @ 6.30pm MERCATO METROPOLITANO, 42 Newington Causeway  SE1 6DR
HOST FOR THE EVENING - KELLY JADE WILLIAMS
Doors 6.00pm - Registration commence. 
Performances 6.30pm – 7.45pm
Judges decision - 8.00pm. 
THURS 2 AUG @ 1.00pm ARTWORKS, Elephant Road, SE17 1AY
HOST FOR THE AFTERNOON - AMANNY MOHAMED 
Doors 1.00pm - Registration commence. 
Performances 1.30pm – 2.45pm
Judges decision - 3.00pm. 
THURS 9 AUG @ 6.00pm ELEPHANT PARK, Elephant Road, SE17 1AY
CO-HOSTS FOR THE EVENING - AMANNY MOHAMED & JOHN WHELAN
Please arrive from 6.00pm 
Show commences at 6.30pm
Judges decision - 8.00pm 
Refreshments available at all venues. Changing facilities limited, best to come changed and ready to perform.
N.B  Group performances with 5+ people, please contact Susan Hayes superarts@btinternet.com
ALIDA PANTONE -COMPERE FOR HEAT ONE OF EGT.
Within the entertainment and communication since 1999, Alida Pantone has an highly versatile profile. Degree in Communication, Publishing and Multimedia Journalism at "Sapienza" University of Rome. She's been working as webmaster, journalist, copywriter, speaker on national and international radio, theatrical assistant director, production assistant for a music and recording management, social media manager, actress and more.                    Director of the "London Rolling Film Festival" and founder of the Actors co-op "Pro-Actors London" (P.A.L.), Alida Pantone is also a Producer ("Miss Julia", "The Guest", "Series of Stories") and Director ("The Guest"). She recently worked as Production Manager on "The Glove" by Luisa Pretolani and "You've Got to be Kitting Me" by AJ. Lamb (both in post-production).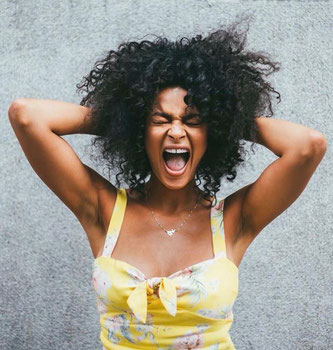 KELLY JADE WILLIAMS - COMPERE FOR HEAT TWO OF EGT.
Kelly-jade is a presenter and actress from East London. She's featured in Paul Knights '21 Little Hours' as well as everyone's all time favourite First Dates. For fun Kelly-jade loves roller skating with friends on her white leather quads. Before acting and presenting she worked as a fashion stylist for the likes of David Haye and Jess Glynne. 
JULY 26TH: LUISA PRETOLANI, RAJ VIRDI; ORLANDO WATKIS, EMMANUEL 
JULY 31ST: NORMA ATALLAH; NATHAN GOODMAN; GRAHAM NEALE 
AUG 2ND: JANE FAITH; LAZAROS SITSANIDIS; ALIDA PANTONE
SEPT 6TH: SADIE NINE; PIETRA MELLO PITTMAN; MIKE SMITH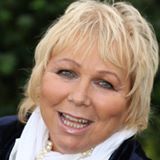 SADIE NINE: Sadie presents her radio show on BBC Essex, Monday to Friday 9am – 12 noon. Her infectious laugh and personality have won her a Gold 'Gillard' award, an 'RTS' TV award, and a nomination for a 'Sony' – the radio 'Oscars'. 
Sadie began her training at Superarts Academy, under the tutelage of Irene Hayes. She began her professional career as a singer and still performs in concerts, shows and her one woman show – 'Sadie's Nine Lives'. She became a 'popstar' in the then USSR, where she appeared live to audiences of 10,000 and TV audiences of 100 MILLION! She was thrilled Susan Hayes choreographed her show and even better, appeared onstage alongside Sadie and dancers.
Sadie was a leading lady in 'Lautrec, The Musical' at The Shaftesbury Theatre, in 'Boogie Nights' alongside Shane Richie at the Savoy Theatre and on tour, and has performed at the London Palladium, Theatre Royal Drury Lane as well as number one theatres nationwide.
She is very happy to be back on her home-ground at the Elephant & Castle, helping to judge these immerging talents.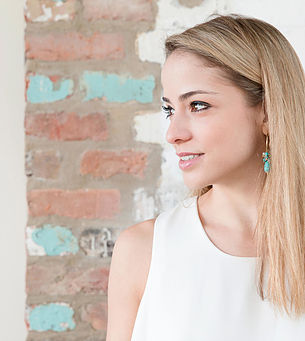 PIETRA MELLO PITTMAN - SISTERS GRIMM PRODUCTION COMPANY
"Sisters Grimm is a Grammy Nominated Production Company in London of Dance Musicals. Sisters Grimm has conceived and produced critically acclaimed, Grammy nominated, sell out theatrical successes that tour internationally. Former Royal Ballet ballerina for 13 years, Pietra Mello Pittman and Grammy nominated composer, Ella Spira are the directors of Sisters Grimm and sole directors of the enterprise. Their productions are socially relevant, engaging audiences by being entertaining and accessible without compromise illustrated by standing ovations for INALA and Voices Of The Amazon. Sisters Grimm has built up a prestigious creative brand internationally, working for the likes of BBC, Channel 4, ITV, the Royal Variety Performance, UNICEF, Hi5 and the GREAT Campaign.  They have entered into co productions with the Royal Opera House and the Ambassador Theatre Group." 
MIKE SMITH - JOINT CREATIVE DIRECTOR AT UPLANDS TV. A television exec with 20+ years experience as an independent producer and in the BBC. A writer, director, and executive producer across a range of factual genres (history, current affairs, science, arts, religion, documentary, drama-doc etc)
JUDGES FOR 2ND AUGUST 
LAZAROS SITSANITIS: Lazaros has worked in the creative industries for the last 15 years with experience ranging from stage and production management, to directing and producing immersive art shows. He has deep expertise in all aspects of events production and live stage performances with a keen interest in music and theatre projects. His past work includes working with major art companies in London and abroad, fashion and TV shows and the National Theatre. He has also produced a series of art festivals which involved cinema, dance and live music events. In his free time he particularly enjoys music composition and soundscape design and he has produced music scores for theatre and short film projects.
JANE FAITH: Jane has worked as a dancer, and in the creative industries for many years. Now a Yoga teacher and retreat facilitator, she brings her knowledge of Stage, TV and Film to this event. 
NORMA ATALLAH: Norma's career has been very much part of the West End, Film and Television; including supporting roles in MAMMA MIA, BEAUTY & THE BEAST, LES MISERABLES, CATS, EVITA and more.... Norma recently played Emily Whitman in FOLLIES at The NATIONAL THEATRE.  Norma also has a very committed role in mentoring the new up and coming talent  in the industry .
NATHAN GOODMAN: Nathan started his training at Superarts Academy, went onto the BRIT School (2002-2006), and then went onto train at London Contemporary Dance School graduating n 2009. Nathan joined Richard Alston Dance Company in 2009 until 2014. In 2013, Nathan was nominated for Outstanding Male Performance (Modern) in the Critics' Circle National Dance Awards.
Since then he has been a freelance artist and has worked with Arthur Pita & Headspace Dance, Hofesh Shechter, Wayne McGregor, Chisato Minamimura, Fevered Sleep, Rosie Kay Dance Company, Anna Watkins (Tavaziva Dance), & Shobana Jeyasingh Dance. 
LUISA PRETOLANI: Luisa Pretolani is a writer, director and producer, the founder of Pahni Productions and the Draper Film Academy. During the course of her career Luisa has worked extensively as producer and director both in New York and in London. Luisa has produced and directed programs for Discovery Channel, Al Jazeera International and ITV.
RAJ VIRDI: London based professional close-up magician since 2001. Performing for the corporate and private sector in the UK and Europe. A member of the Magic Circle.
SEPTEMBER 2019 - DATE TO BE CONFIRMED - WATCH THIS SPACE!
---
We will be holding Superarts Academy Open day in September 2019 at St Johns Centre, 64 Larcom Street, SE17 1NQ for children and teens aged from 3-17yrs!
If you dream of being a Dancer, Actor or Performer, We would love to see you!
Try out our classes: Infants Class (3-5 yrs); AcroGym; Street; Musical Theatre; Ballet & Tap 
We look forward to seeing you!
---
---
IF YOU HAVE ANY QUERIES REGARDING THE EVENTS ABOVE, PLEASE FILL OUT THE FORM BELOW: